In colder climates, the need to stay indoors increases as the season progresses.
A non-motorized treadmill (sometimes referred to as a manual treadmill or a self-propelled treadmill) is an excellent option to continue your workout even if you can't run outside because of the weather.
What Is A Non-Motorized Treadmill?
Non-motorized treadmills (NMTs), also known as manual treadmills or self-propelled treadmills, are exactly what their name implies: treadmills powered solely by the user's own body weight.
Electronic, battery-powered screens track your pace and calories expended, even though these treadmills are less advanced than motorised treadmills. Some can even save interval sessions or personalised training programmes for you!
Best Non Motorized Treadmills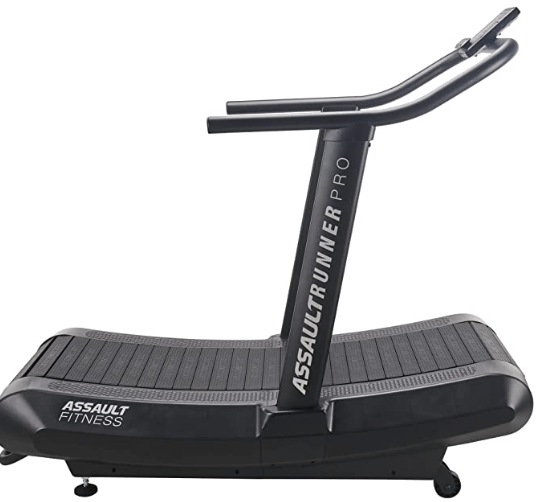 My Favorite Things:
There are nine pre-installed applications.
Long strides can be made on a 60-inch board.
Wheels and a handle make it easy to move about.
High-quality display with a wide range of stats
My Callouts:
Frames come with a five-year warranty, while parts have a three-year warranty.
The treadmill's plastic side panels are vulnerable to cracking.
Imported rather than domestically produced
For manual treadmills, the AssaultRunner Pro is hard to beat in terms of price/quality. The AssaultRunner Pro costs around $3,000, which isn't exactly cheap for a piece of cardio equipment. As a manual treadmill, it's on the more cheap end, but it still has a lot to offer.
In particular, I'm a fan of the monitor that is based on the Assault AirBike and comes with nine built-in programmes. A variety of options are available to help you get started, including a quick-start mode and competition mode.
With the AssaultRunner Pro, I've found that running, walking, and sprinting are all easy on this manual treadmill. Those who enjoy doing sprinting intervals will enjoy this treadmill because the belt moves quickly, which is perfect for sprinting.
At just 280 pounds, the AssaultRunner Pro is a pretty lightweight motorless treadmill. To make moving around your garage gym even easier, the machine comes with wheels and a handle. I was able to move it on my own, but you could always ask a friend or family member for help.
The machine's 60-inch running surface is a strong selling point. If you have a longer stride, this is good news for you. Because you can't take a full stride on the short decks of some manual treadmills, they're only useful for walking. If you're looking to improve your running, jogging, or sprinting, this is a huge advantage.
With a 5 year frame, 3 year parts, and 150,000 mile belt guarantee you're getting a fair deal. Not the worst but might be improved upon. In contrast, the more expensive AssaultRunner Elite comes with a longer warranty, albeit at a higher cost.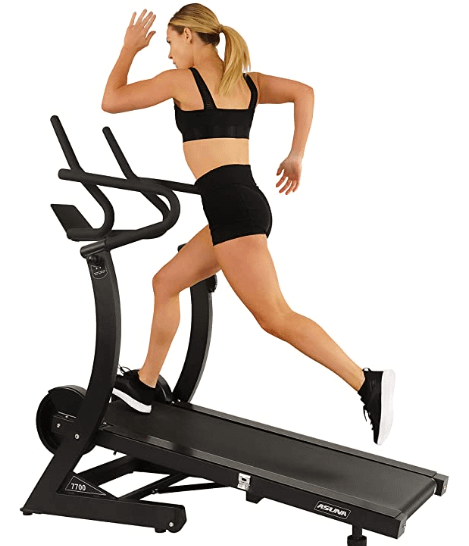 The Asuna 7700 is a wonderful option for those looking for optimum stability at a reasonable price. Low and high intensity workouts are both supported by the heavy-duty steel deck.
You'll be able to run comfortably with a typical stride at 55 x 30.5 x 57 inches. Because of the dual flywheel design, the belt moves smoothly, and the tension can be adjusted to suit your needs as you get stronger.
As a final convenience, it comes equipped with a gentle drop technology that lets you fold it to the ground without lifting a finger.
As a beginner runner, this machine is ideal because of its simple design as well as its longevity.
Pros
At 440 pounds, this is an excellent weight capability.
Stable to the core
Exercises requiring a degree of flexibility necessitate the adjustment of tension.
Cons
Flat-belted NMTs are more expensive than NMTs with belts.
The Exerpeutic is a good all-around selection. While a curved treadmill is more expensive, this one gives handlebar stability and additional features like heart rate monitoring without going all-out.
You won't have to worry about short belts on flat-belt NMTs with this one. The 45-inch belt length of the Exerpeutic makes it suited for jogging for a wide range of users.
The Exerpeutic features plenty of customising options and is comfortable on the joints thanks to its weight capacity of 325 pounds and inclines that range from 8 to 15 degrees.
Using the handrails may be necessary because the incline is steeper than on most other NMTs. If you're using it as a mobile workstation, that can be a pain. However, for a routine workout, it serves its purpose.
Pros
Heart rate monitors that use fingertip pulses on the skin
Stability is ensured by long safety handles.
There is a 15-degree incline.
Cons
Higher inclines necessitate the use of the handles.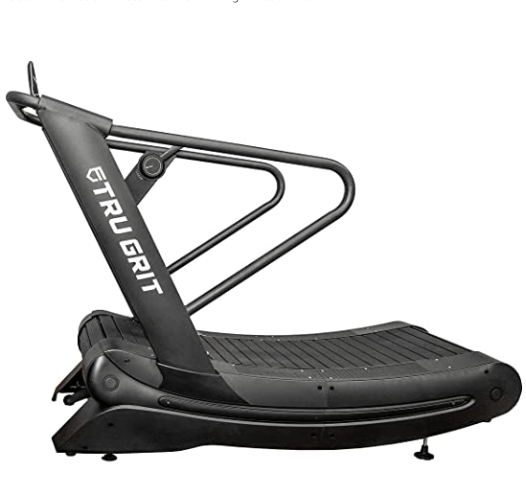 My Favorite Things:
A manual treadmill for under $2,000 is a good value.
The belt comes with a lifetime guarantee.
There are six ways to fight back.
My Callouts:
Minimalist LCD gaming console
Between the slats, there are large spaces.
Plastic that doesn't appear to be very long-lasting.
Tru Grit Fitness's Grit Runner curved manual treadmill is one of the most economical options on the market. Walmart.com sells this treadmill for just over $2,000, which is a good deal considering it weighs 415 pounds (shipping would be expensive).
Thick rubber tread is my favourite feature about the Grit Runner. This treadmill also comes with a lifetime warranty on the belt, which is a major perk. It's wonderful to have that warranty on a budget-friendly manual treadmill, as many high-end treadmills don't have it.
I like the Grit Runner for walking and jogging, but be warned: if you try to sprint on it, it's a lot louder than normal. You should be aware that this is possibly the loudest manual treadmill I've ever heard. Unlike the TrueForm Trainer and Runner, it is not meant to improve your running form.
A treadmill like the TechnoGym SkillMill does feature resistance settings, but I'd want to see more of it than what is now accessible.
Something I don't like (but isn't surprising given the price) is the widespread usage of plastic. The machine has a huge footprint, and the shrouds encircle the wheels, causing it to scrape the ground as it moves. They could have been more careful with their use of plastic, in my opinion.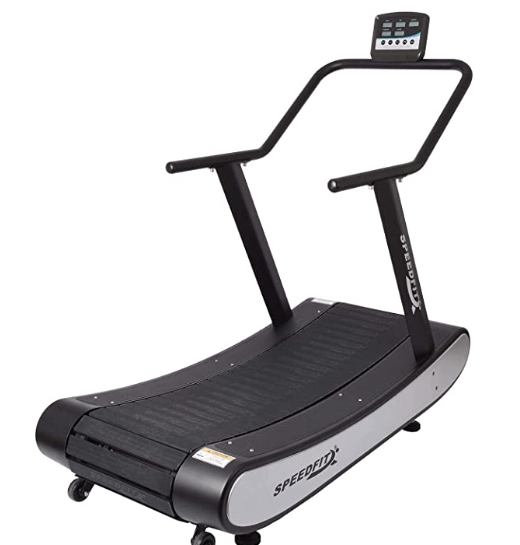 With this, the Speedboard series' second iteration, the company has made significant advancements over its predecessor. It produces a machine that is quieter, lasts longer, and absorbs shock better. Its dimensions of 67 x 33 x 72 inches are ideal for running.
This treadmill's curve is gentler than those on most other curved treadmills, which is good news for your legs.
You can move the belt more readily while still maintaining a natural running feel by making the curvature as little as possible.
The onboard technology is the real show stopper in this package. Compared to other personal trainers, the SpeedFit is the best in the business. An in-depth 10-minute starting test examines your performance and helps you select the perfect workout for you. A treadmill workout for every level of fitness can be found in the 5,000 options.
What could be considered a drawback? If you want to keep track of your heart rate, you'll need to look for a different device. Overall, this is a decent, mid-range laptop that will give you all the tools you need to succeed.
Pros
Quiet
Setup is simple and straightforward.
Customized to the tee
Cons
Does not come with a heart rate monitor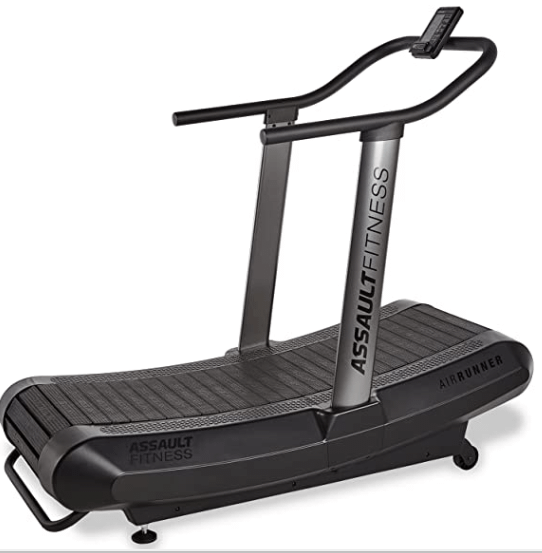 Curved manual treadmills are more expensive than flat-belted NMTs but are better for high-performance jogging. The AirRunner curved NMT is both more inexpensive and more durable than other curved NMTs of its calibre. It has a 150,000-mile belt life and a five-year frame warranty.
In contrast to most NMTs, the AirRunner's curved design allows you to go as fast as you like, with no maximum speed required.
The AirRunner can handle a variety of training methods, including walking, sprinting, and high-intensity interval training (HIIT).
As one of the heaviest manual treadmills on the market, it is also one of the most durable. It has a steel frame, handrails, and a 350-pound weight capacity. Plus, at 69.9 x 32.8 x 64 inches, it's still small enough to fit in your home gym comfortably.
Pros
Extremely durable
A warranty of five years is included with every purchase.
Suitable for a wide range of training
Cons
Compared to flat-belt NMTs, they are more expensive.
How We Tested The Manual Treadmills
Treadmills can be tested using a range of activities including sprinting intervals, endurance runs, farmer's carry and power walking if they are manual. The form and belt of each treadmill might have an impact on one's stride, therefore it's crucial for me to try a range of workouts on each one.
In order to get a complete view of each manual treadmill, I also look at the guarantee, materials used, size, price, and assembly.
Benefits Of Using Manual Treadmills
Wondering why you should take the plunge and purchase a manual treadmill? Here are a few of my top reasons:
It requires less upkeep than a treadmill with motor.
Has the ability to help you improve your running technique
Because the treadmill is user-controlled, you won't be able to go beyond the limits of your manual treadmill.
It's easy to use.
Electricity isn't needed.