What is The Best Treadmill For Bad Knees?
Nordictrack is a popular choice for persons with poor knees who still want to work out regularly but in a safe way.
This treadmill is capable of meeting a wide range of needs thanks to its high-quality design and suitable cushioning.
Additionally, a NordicTrack treadmill provides a wide range of workout routines, allowing the user to switch up their training regimen and avoid getting bored during workouts.
How to Choose The Right Treadmill For Bad Knees
For a safe and enjoyable workout, the running area should be sized to accommodate your stride, width, and motion.
Knee shocks can be minimised by using a treadmill that provides enough cushioning.
Small increments in the speed count should be easy to alter and available for all users.
User-friendly controls and a simple interface are required.
Treadmills should be able to sustain your weight, even during extensive training sessions.
The treadmill should be easy to fold if you want one that is collapsible.
Best Treadmill for Bad Knees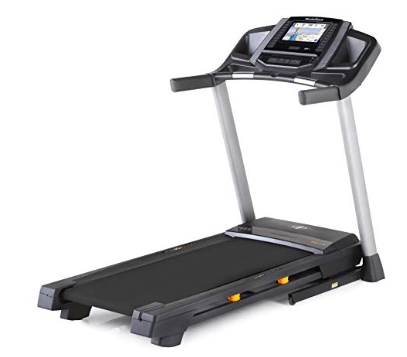 A distinctive compact cushioned running belt is included in this Nordic Track T 6.5 Si. The iFit programme, which offers live workout sessions to keep you motivated, is free for the first year. The treadmill's incline and pace can be digitally controlled by an expert trainer, who can coach you through a variety of programmes.
An adjustable deck cushion on this treadmill cushions your joints as you work out. To keep you active and fit, it offers a unique 20 programmed fitness programmes You can monitor your heart rate, elevation, and intensity as well as other personalised training data on the 10-inch HD touch screen that folds down for storage.
Specifications
Dimensions: 67.5 x 36 x 73 inches
Weight: 207 lbs
Maximum User Weight: 300 lbs
Belt Size: 55 x 20 inches
Music Port: Yes
Pros
20 preloaded workout programs
Easy to fold
Built-in speaker
On/off track cushioning
Cons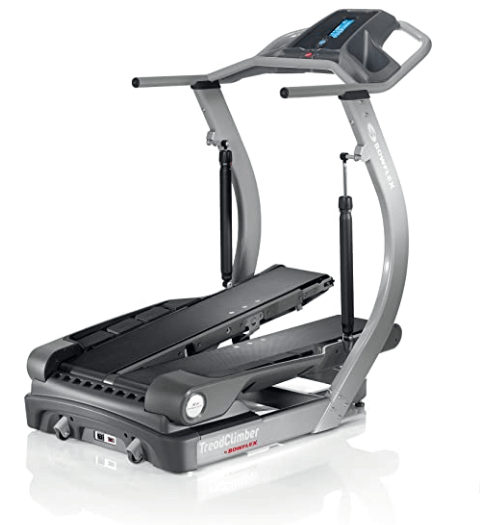 Running on the Bowflex Tread Climber TC20 is easier on your knees because of the low-impact design. An elliptical trainer, treadmill and stepper all in one machine is what you get with its twin treadle system. The Goal Oriented Coaching technology aids in the customization of physical activity and fitness goals based on individual requirements.
Incorporating a wireless heart rate monitor into this cardio equipment helps you get the most out of your workouts. To get you started, there are three preset programmes and five pre-programmed workouts included. Using a backlit LCD, you can easily see the speed and distance travelled. A water bottle and books can be conveniently stored in the console's ergonomic storage area for quick and easy access. As an added bonus, it has a Bowflex body weight loss programme, an immediate Quick Start, transport wheels for convenient portability, and extra-long foot treadles.
Specifications
Dimensions: 55 x 31.5 x 55.25 inches
Weight: 217 lbs
Maximum User Weight: 300 lbs
Belt Size: 51 x 30.5 inches
Music Port: No
Pros
Wireless heart rate monitor
3-year warranty
Extra-long foot treadles
Comes with wheels for easy transportation
Cons
Low impact on the knees can be achieved by using this Sunny Health and Fitness Walking Treadmill. Using it, you may go from walking at a sluggish pace to jogging in a matter of seconds. Personal training goals can be set with the use of the rapid speed and specialised mode button. With the help of multi-grip handrails, you may perform a wide range of exercises for your arms, shoulders and back.
Additional support is provided by the non-slip foam-padded handlebars on this treadmill. Speed, calories, and distance are all displayed on the console's illuminated LED screen. Transporting and storing this equipment is made simple by the low profile deck and front-mounted wheels. The emergency safety key, which you may remove from the console and use to stop the treadmill in an emergency, can be used to do precisely that.
Specifications
Dimensions: 58 x 29 x 53 inches
Weight: 123 lbs
Maximum User Weight: 295 lbs
Belt Size: 49 x 19.5 inches
Music Port: No
Pros
Easy to store
Comes with handrails
Sturdy
Lightweight
Cons
Takes a while to assemble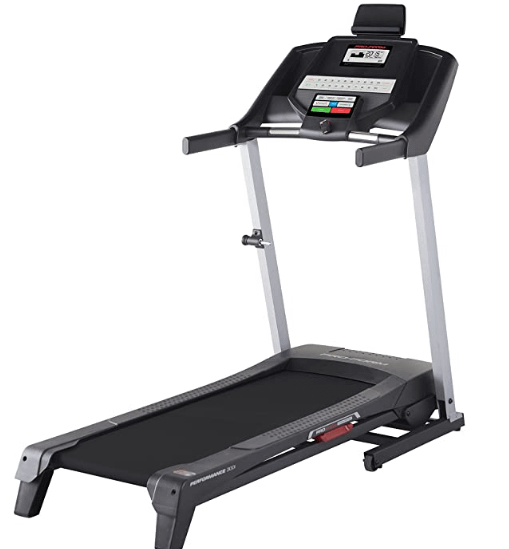 The ProShox cushioning on the Proform Performance 300i Treadmill keeps your joints safe while you're running. A one-year subscription to iFit, which provides access to a variety of training programmes and live sessions, is included with the device. With a single push of the button, you can go from walking to jogging to running.
A grip pulse EKG heart rate monitor and a 10 percent rapid inclination control are also included. Even during the most strenuous exercises, the commercial plus motor remains cool to the touch, ensuring a pleasant ride. For iPads and music players, this treadmill is Bluetooth-enabled and may be used on the go. Having a deck that folds up and takes up less room is a bonus.
Specifications
Dimensions: 64.7 x 28.9 x 55 inches
Weight: 149 lbs
Maximum User Weight: 300 lbs
Belt Size: 50 x 16 inches
Music Port: Yes
Pros
EKG heart rate monitor
Preloaded workout programs
Quick incline control
Multimedia support
iFit membership
Space-saving design
Cons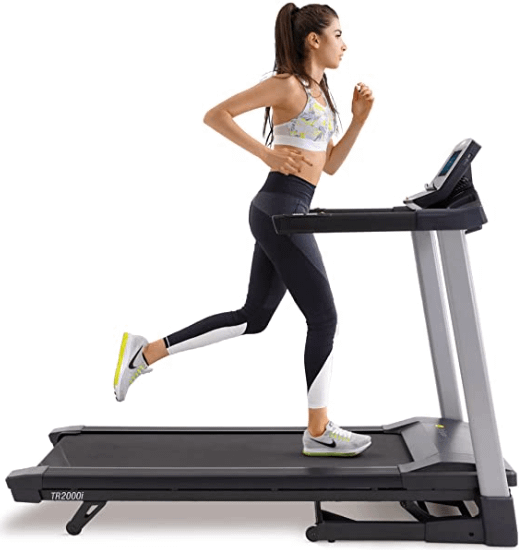 For low-impact exercise, the TR3000i Treadmill incorporates eight compression shock absorbers with responsive cushioning. Physiologists have devised a total of 21 recognised workouts for this machine. You can keep track of your workouts thanks to the easy-to-use navigation of the console.
Intense and effective training is made possible by the treadmill's 15 levels of incline and speed variations ranging from 0.5 to 12 miles per hour (mph). Additionally, it has a three-speed cooling fan and proprietary step counting functions. Intelli-Guard safeguards your safety by preventing the belt movement within 20 seconds of your departure from the deck. Easy folding and unfolding is made possible by the EZfold hydraulic shock technology.
Specifications
Dimensions: 71 x 33 x 56 inches
Weight: 220.46 lbs
Maximum User Weight: 350 lbs
Belt Size: 56 x 20 inches
Music Port: Yes
Pros
3- speed cooling fan
Easy to fold and unfold
Integrated with fitness apps
Patented step counting technology
User-friendly
Compression shock absorbers
Cons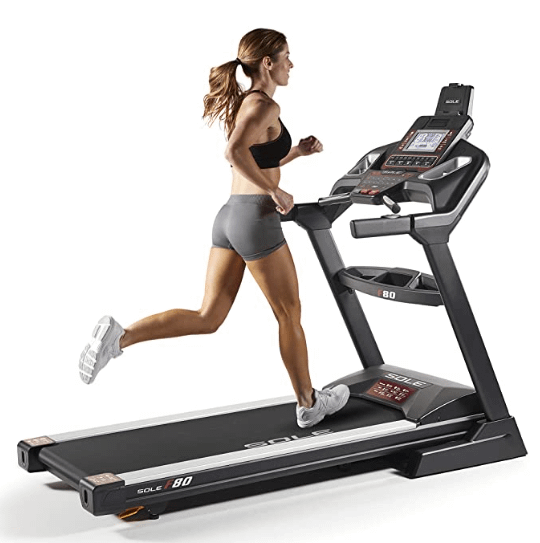 Hill training, interval training, and long-distance running are all best done on this treadmill instead on a flat surface. It has 10 pre-programmed workouts, six regular workouts, two heart-rate workouts, and two personalised workouts. Speed (0.5-12 mph) and inclination (15 percent) can be easily adjusted using the console's quick-access buttons. You can monitor your distance, calories burned, speed, and heart rate thanks to a 7.5-inch LCD display. It features built-in speakers, cooling fans and a tablet holder on this treadmill.
You can monitor your progress with numerous fitness applications thanks to Bluetooth. A low-profile running hood and a large stop button are also included in this treadmill. Up to 40% of the impact on your joints is reduced thanks to the cushion flex whisper deck, which also saves space. When the treadmill is upright, a safety lock on the innovative gear rack and pinion system secures the deck. The folding deck of the treadmill allows you to step back and let it unfold on its own after you're done using it.
Specifications
Dimensions: 80 x 33 x 58 inches
Weight: 265 lbs
Maximum User Weight: 375 lbs
Belt Size: 60 x 22 inches
Music Port: Yes
Pros
Easy to fold
15% inclination
Multimedia support
Large LCD display
Static-free surface
Cons
To get the most out of your workouts at home, use the Horizon Fit T202 Treadmill. It has a Flex Plus cushioning technology that is ideal for low-impact workouts. It has a range of 0.5 mph to 12 mph, with 12 different incline levels. The treadmill has a 31-day goal training feature and 12 programmable choices for you to customise it to your preferences.
Data can be stored in the two 4-digit LED consoles, the alphanumeric display, and the LED brickyard training profile. In addition to the silent motor, this treadmill has an iPod compatible audio system, an inbuilt exercise fan, and a pulse and heart rate monitor. Simple set-up and storage are made possible by the FeatherLIGHT folding lift with hydraulic shock.
Specifications
Dimensions: 75 x 34 x 58 inches
Weight: 196 lbs
Maximum User Weight: 325 lbs
Belt Size: 55 x 20 inches
Music Port: Yes
Pros
User-friendly console
Easy to fold
Easy to store
Lifetime warranty
Quiet operation
Durable
Cons
Shakes while in use
Connectivity issues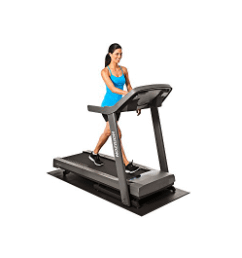 Budget-friendly, entry-level treadmill for light to moderate exercises, Horizon Fitness T101. For accurate heart rate monitoring, the handgrip includes a pulse monitor built into it. Fast fat burning is made possible by the trainer's 10 percent inclination and speed range of 0.5-10 mph.
There are 30 workout programmes installed on this treadmill, including 10 step-goal workouts, 10 distance-based workouts, and three interval workouts. There is also a 5′′ LCD monitor with three data panes, Bluetooth connectivity, and a cooling fan. The deck can be easily raised and lowered thanks to the light lift and two hydraulic shocks.
Specifications
Dimensions: 70 x 33 x 55 inches
Weight: 165 lbs
Maximum User Weight: 300 lbs
Belt Size: 55 x 20 inches
Music Port: Yes
Pros
Budget-friendly
Easy to store
Pulse monitor
Cons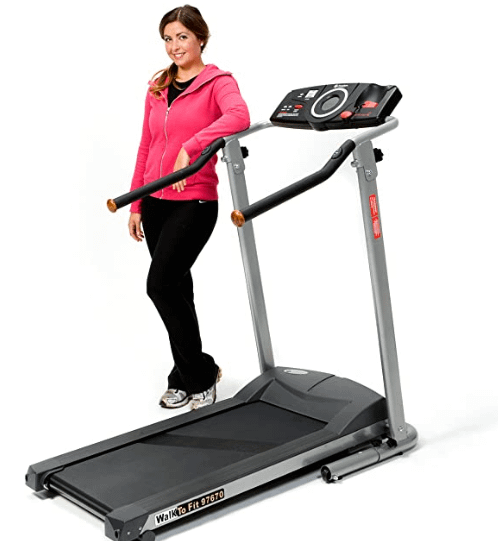 Shock absorption technology ensures a pain-free running experience on this large capacity treadmill. Stability and efficiency are ensured by the sturdy frame and extra-large belt. Time, speed, distance, calories, and pulse can all be seen on the touchscreen LCD interface that comes standard with the machine.
Extra-large safety handles with the EKG grip are also included on this treadmill for further security and stability. The handlebars are equipped with heart rate monitors and speed controls for convenient access during workouts. A five-year warranty backs up the motor's extended life expectancy of 1.5 HP. It's easy to fold and transport because to the space-saving design and the integrated wheels.
Specifications
Dimensions: 47 x 29 x 51 inches
Weight: 110 lbs
Maximum User Weight: 350 lbs
Deck Size: 36 x 16 inches
Music Port: No
Pros
Budget-friendly
Easy to fold
5-year warranty
Easy to assemble
Cons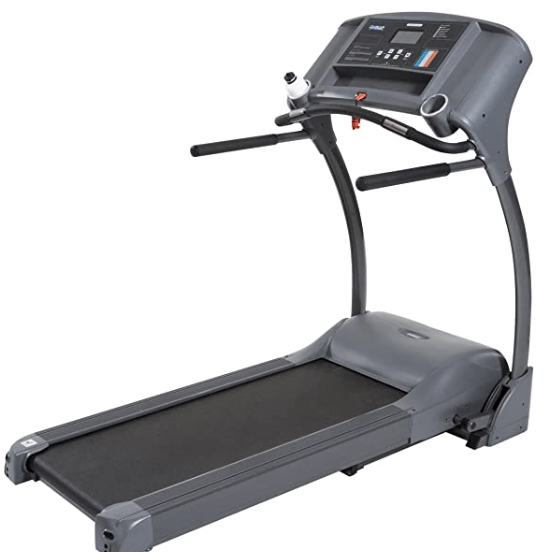 With six pre-set routines, the Smooth Fitness 5.25 Folding Treadmill has a wide variety of speed and incline options, as well as a built-in heart rate monitor. Tracking and displaying the time, distance travelled and calories consumed is done via an LCD display on the console.
Walking or running is less taxing on the joints thanks to a revolutionary swing arm suspension. Two-inch industrial grade rollers and an on-board hand grip pulse monitor round out this treadmill's list of impressive features. It runs at speeds between 0.5 and 10 mph and has a 2.5 HP motor. Soft drop folding and unfolding in two stages makes it simple to use and store.
Specifications
Dimensions: 73 x 36 x 60 inches
Weight: 195 lbs
Maximum User Weight: 300 lbs
Belt Size: 53 x 20 inches
Music Port: Yes
Pros
Easy to fold
Handgrip pulse monitor
Lifetime warranty
Triple-laminated phenolic deck
Cons