When comparing heavy duty treadmills, you'll want to know about a few key aspects before making a purchase.
Following the individual treadmill reviews, I've put up an educational guide that outlines what to look for when attempting to determine which treadmill is ideal for you.
Keeping this in mind as we go through the treadmills, here is a quick synopsis.
Best Treadmill for Heavy Person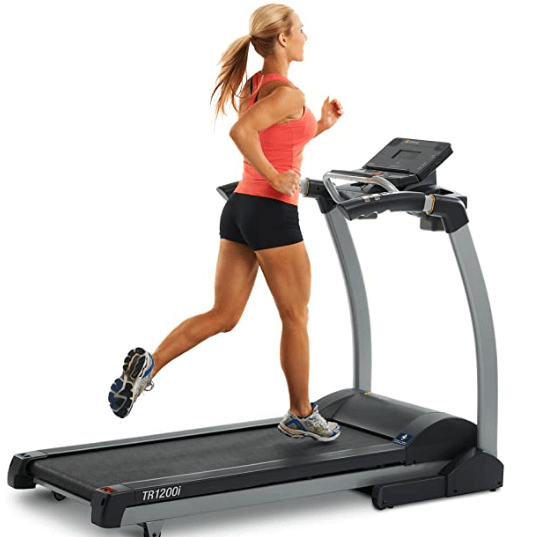 In addition to 15 incline levels, the LifeSpan TR 1200i can reach speeds of up to 11 mph. It has a maximum weight capacity of 300 pounds. There are fewer features on this treadmill, but it's cheaper than the TR 4000i.
Walking is great, but running is a little uncomfortable.
In contrast to the 60-inch lengths of other running treadmills we've tested, this model's running belt is only 20 inches broad but 56 inches long.
For people who plan to run on this treadmill after losing weight, the lower belt length may be a concern. Users who are above six feet tall have complained that the treadmill is too short for them to run on.
A durable tread belt and a good shock-absorbing surface make for an excellent combination.
There is a running deck with six compression shocks and a cushioned, 2-ply tread belt on the TR 1200i to help absorb impact. When comparing 2-ply treadmill belts to regular 1-ply treadmill belts, the 2-ply ones will last longer, be quieter, and provide a little more comfort.
You can use this running surface if you have knee problems or if walking bothers your hips or lower back. Continuous Duty Horsepower (CDH) of the motor is sufficient for many years of regular use.
For accountability and encouragement, save your workout data to a USB and upload it to the LifeSpan website.
There are 21 different workouts to choose from on the console. Using a USB device, you can then plug it into a computer and monitor your progress in the gym.
If you have a LifeSpan Club account, you can use the USB to track your time, calories burnt, heart rate data, distance walked, and step count. As a novice, this accountability will help you stay on track with your workouts.
Good warranty
TR 1200i has a lifetime warranty on the frame and motor, along with three years of parts and one year of labour, same as previous LifeSpan models. Assembling it with a friend will take about an hour or so.
Pros:
Long lasting heavy duty 2-ply tread belt
Record to data to USB and upload to LifeSpan for added accountability
Cons:
56 inch long belt less comfortable for running
Assembly can take an hour or two and need a helper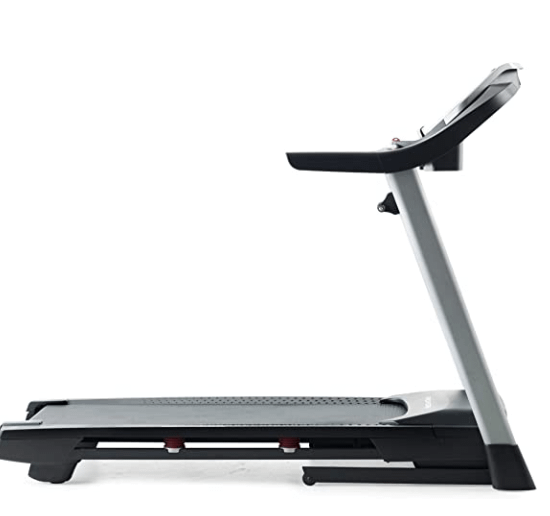 There are few treadmills in our guide that cost less than this one. We think it's a bargain, especially given the 6-inch backlit display and the 18 pre-programmed workouts. For most people, the 325 lb weight capacity should suffice, but bigger men may want to check out the additional possibilities available
You may also use the treadmill to listen to music on your MP3 player or iPod.
Pre-set exercises in user mode can be challenging, but manual exercises work just fine.
Some of the workouts in user mode are quite difficult, but if you manually adjust the speed, it works just great. My personal preference is to use the manual settings on any treadmill, regardless of how much it costs.
Heart rate can be measured with hand sensors, however it may not work for many people.
Over the years, I've used various treadmills. The problem is that many treadmills, especially the more basic ones, don't always display the right heart rate readings.
It's the same with this treadmill. The sensors for gripping hands may not always function. If you're using a smartwatch like the Apple Watch or FitBit, you may not even notice if the built-in sensors aren't operating properly.
If you need a chest strap-based HR monitor and the built-in one doesn't function, I recommend investing in one. These are more accurate than wrist-based heart rate monitors, and they're less expensive.
Low-noise motor
The 505 CST's 2.5 CHP motor will give the LifeSpan TR 1200i a run for its money, especially at its low price.
You'll appreciate this treadmill's quiet operation if you enjoy peace and quiet or if you have other family members that you don't want to disturb. You can use it in an upstairs room or apartment without worrying about the motor being too noisy, because it is quite quiet.
We were unable to verify the claim that the power-saving feature will help you save money on your electric bill.
Walking is fine, but running may be more difficult for those who are particularly tall.
If you're tall, the 505 CST may be a little less comfortable for running than it is for walking. It has a 20-inch wide by 55-inch long 1-ply tread belt.
Cushioning on the running deck is similar to that found on other treadmills.
Some assembly may take some time.
You'll need a lot of aid and a lot of time to assemble the box.
Pros:
Rated for heavy users up to 325 pounds
Quiet motor with power saving
Strong 2.5 CHP motor at an affordable price
Solid warranty for such a low price
Cons:
Panel computer not always saving user defined exercises
Hand grip heart sensors may not work reliably for everyone
Tread belt wide enough for walking but tall people may find its length too short for running
May take a while to assemble with a helper
Compared to the TR 4000i treadmill, the ProForm Pro 2000 features a 3.5 CHP motor, which is significantly more powerful. The Pro 2000, like the TR 4000i, has a top speed of 12 MPH.
As well as a unique decline option, the incline can rise up to 15%.
Its slope can go up to 15%, which is comparable to other models in its class, but it also has a decline feature. A pre-defined slope and incline training can be used to more accurately mimic the actual experience of walking outside. The ability to train for both the uphill and downhill sections of a 5k or other event is a good advantage to have.
In comparison to other versions, a 22″ wide tread belt, but just a 1-ply tread belt.
It has a good cushioning system with shock absorbers set precisely on each side to reduce impact. A 22-inch broad tread belt compared to a 1-ply tread belt on the competitor's, although it is longer.
Tread belt replacement may be more frequent than on other 2-ply tread treadmills, but it should still last a long time without maintenance due to the larger running surface.
There are more features on this treadmill than on similar models.
Technology such as Google Maps and iFit are available on the Pro 2000 console. Most overweight people like yourself will start off with just the fundamentals and won't need all of these extras, but they can be interesting to explore and can serve as some fantastic distractions when you start your walks.
This treadmill has 32 distinct exercises and greater programming choices than the LifeSpan TR 4000i. However, we believe that some choices are too complicated for novices to utilise. However, you are under no obligation to make use of them.
Good warranty
The treadmill comes unassembled, but due to its size we suggest that you have some to help you to assemble it. This treadmill's warranty is excellent, coming with a lifetime guarantee on the frame and motor, 5-year warranty on parts and 1-year warranty on labor.
Finally, this treadmill also earned a Best Buy recommendation from Consumer Reports, which tests products and makes recommendations to help buyers assess a product's pros and cons.
When it comes to a durable treadmill that can bear your weight while also offering a wide range of technological and programming possibilities, this is a wonderful option to consider.
Pros:
Very strong 3.5 CHP motor
Decline option provides different kind of workout
Extra wide tread belt of 22″ very comfortable for walking or running
32 different workouts and advanced features
Many features including iFit and Google Maps
Earned Best Buy from Consumer Magazine
Cons:
Belt is only 1-ply may require maintenance after some use
Advanced features may be confusing for beginners
Folds to about 70 degrees so may still take a bit of space
There are eight compression shocks that help to reduce the impact on your knees, hips, and back while running on the TR 4000i running deck.
All the essentials, such as time, calories, distance, and speed, are displayed on the LifeSpan TR 4000i's backlit 6-inch LCD. Additionally, step count, elevation change, and heart rate are all included. There is an IntelliStep function on LifeSpan treadmills that helps you keep track of how many steps you take.
With a strong motor and a variety of workout plans,
This treadmill has 15 inclination settings and a maximum speed of 12 mph. There are 3.25 constant duty horsepower available from the motor
We don't think you'll use all of the features it has to offer, including the 21 workouts, but the motor's horsepower ensures it can handle your weight and will endure for a long time.
Using Bluetooth, you can keep tabs on the development of your connection to the phone.
A Bluetooth-enabled Active Trac app is one of the great features of this treadmill. You can sync it to your phone or tablet. To help you stay committed to a regular exercise routine, this app lets you see your fitness progress in real time as it happens.
While walking, you can cool yourself down with the built-in fan's 3-speed settings. It's not an air conditioner, but when you're hot and bothered, anything helps.
Treadbelt that is 60 inches in length is ideal for runners.
In terms of length and width, the running belt measures 20 inches by 60 inches, so it's long enough for any household runners (or for your own future running) and wide enough to stroll on.
There is a strong warranty on the LifeSpan TR 4000i treadmill like on other LifeSpan treadmills.
Warranty coverage for components and labour is provided by the manufacturer for a combined period of 10 years, which includes a lifetime guarantee for the treadmill's frame and engine. LifeSpan's strong warranty reveals that the company has thoroughly tested and relies on its product to perform without any issues.
Despite its higher price, we believe the TR4000i treadmill is a good value for what you're getting.
Pros:
Wide enough belt for comfortable walking.
Long belt of 60″ very comfortable for any runners in the house
Extra cushioning for better shock absorption
Connect via Bluetooth with your phone or tablet to track progress in realtime
Cons:
Manual may not be clear enough
Some users complain about static electricity touching the metals
Because it weighs 120 pounds, this treadmill's shipping weight is less than half that of the other treadmills on our list. It's impressively little, even though it's not as small as some compact treadmills.
If you want to run in the future, possibly after reducing some weight, this treadmill will put you in a bind.
Only for a walk
Exerpeutic's TF1000 treadmill is only meant to be used when walking. Even though the treadmill only gets up to 4mph (6.5 km/h) at its slowest setting, it's no promenade.
If you expect to do more than just walk on this treadmill, or if you plan to use it to jog in the future after losing weight, this treadmill is not for you.
Low-noise motor
The motor only has 1.5 horsepower, but walking doesn't necessitate anything more. In addition, because the engine is so little, it doesn't produce a lot of noise. When using the treadmill, the motor should be quiet enough for you to watch television.
Strong persons will appreciate the extra-long handrails.
Heavy users and people with mobility concerns will appreciate how nicely Exerpeutic designed this treadmill for both of these groups.
Why? In fact, many larger men found that these railings were incredibly secure, because to their greater length. As someone who has difficulties walking and relies heavily on the handrails, this is critical.
During our research, we noticed that persons who are bigger than average had no issues with this treadmill. But one drawback is that the belt may occasionally slip and require adjustment, which we do not find to be too significant given the treadmill's many advantages.
Wide railings and a surface that is safe and easy to walk on are provided.
20-inch wide and 40-inch long are the dimensions of the running belt. Most walkers will be able to use this because it's long enough and wide enough (20 inches). If you need to take a break, the TF1000 boasts broader side bars than other treadmills, so you can comfortably straddle the treadmill belt.
The display and functions on these treadmills are very basic.
This treadmill can also be used as a walking desk for individuals who want to exercise while on their feet. It has a limited number of features, but that's fine with you. The two manual incline positions and the modest LCD display showing time, distance, calories, and pace are probably all you'll need. Your heart rate will be monitored by this treadmill as well.
However, considering the inexpensive cost, the warranty is adequate.
The frame and motor of the TF1000 have a five-year warranty, while the parts and labour are covered for 90 days. Even though this treadmill has a lower guarantee than some of the others on this list, its reasonable pricing and 400-pound weight restriction still make it a worthwhile purchase..
All things aside, if you are looking for a walking-only treadmill you can't go wrong with the Exerpeutic TF1000, it's the best low-budget walking treadmill you can find
Pros:
Very light weight
Quiet motor
Extra long handrails suitable for people with mobility problems
Wide side rails make taking breaks convenient
Comes already assembled ready to use
Cons:
Treadmill only for walking/brisk walking up to 4 mph (6.4 kph)
Belt may occasionaly slip and require readjusting
Very simple screen with no special features
Warranty is limited but typical for the low price
The Sole F85 treadmill costs a lot of money. Treadmills for the home aren't exactly known for their durability, but this one is built to last.
Exercise equipment for those weighing more than 300 pounds is few, and even fewer options are available for those weighing up to 400 pounds.
It's much more difficult to locate a nice treadmill for big guys when it comes to running.
With a weight capacity of up to 400 pounds, the SOLE F85 is the only running treadmill in this roundup that's truly made to last.
Investment in a treadmill like the Sole F85 may be unnecessary if you expect to continue walking after losing some weight.
A low-cost treadmill like the Exerpeutic TF1000 is a fantastic choice if you prefer walking to running (The Exerpeutic supports 400 pounds users but no running, walking-only)
When it comes to treadmills, Sole F85 is the finest option for those who wish to run or for those who have a family member who does.
Because of its powerful motor, it can also be used as a treadmill if you wish to go quicker when you're walking.
When it comes to speed, nothing beats the Sole F85
300 pounds, 83 inches long, and 37 wide – that's the size of this treadmill.
While moving and installing it would likely necessitate assistance, it can be folded up and moved relatively easily once it is assembled. Additionally, it boasts a strong motor that, despite its size and power, is surprisingly whisper-quiet.
The Sole F85 folds like all other treadmills reviewed here, yet even when folded, this treadmill takes up somewhat more room than other treadmills.
Long-lasting tread belt on a large running surface
The 22-inch-wide running belt has two plies. With a 2-ply construction and a 22-inch circumference, this belt should provide years of service before needing replacement "a belt with a large circumference provides a lot of room for movement. At 60", it also has the longest treadbelt, which makes running on the Sole F85 more comfortable than running on the other treadmills we reviewed earlier.
Designed with heavy people in mind, the cushioning is excellent.
A well-cushioned treadmill is a necessity for any machine intended for heavy use, and this one certainly does. However, the Sole F85 shock absorption is even better than the rest, which should come as no surprise given the maximum capacity of 400 lb and the high price tag. This type of running surface is an added benefit if your joints are already stressed by your weight.
Large screen with a lot of options
We like the impressive 10.1-inch display that will show you your speed, time, distance, pulse rate, and of course, calories burnt. There is a lip so you can put a book, magazine, or tablet near the display. Its built-in speakers let you plug in any MP3 player, like an iPod or iPhone.
It offers 8 different programmable exercise options and a 1/4-mile track feature plus a Peaks and Valleys graph. The useful heart rate program can automatically tell you your target heart rate once you input some basic personal information.
If you plan to use this treadmill just for walking, you may not need to bother with some of these extras.
Engine takes a while to speed up might not be suitable for interval training
We found that the treadmill takes a while to speed up. For all regular cardio workouts, that shouldn't be an issue.
However, if you plan to do interval training and springs, it's far from optimal. Interval training means to transition from slow pace to extremely fast pace almost instantly, and this treadmill may not be suitable for such type of training. Though, to be honest, we didn't find any home motorized treadmill to be good for that. We found the best treadmills for interval training (HIIT) to be curved treadmills and manual treadmills.
If you are on the heavier side, that isn't a problem. You may need the extra time to adjust to faster speeds since changing the pace on a dime can be difficult.
Great warranty
The Sole F85 frame, running deck and motor all come with a lifetime warranty.
Parts and electronics are covered by five-year warranty and labor for two-years.
Pros:
Very comfortable running surface thanks to a wide and long tread belt
Long lasting 2-ply thick belt
Advanced shock absorbing system
Large display LCD 10.1 inches
Lip for book or tablet and built in speakers for phone/MP3 player
Cons:
Very heavy and massive treadmill
Very expensive
Treadmills that can handle people who weigh up to 450 pounds are few and far between, but the Sole TT9 is one of the few that can.
For people who weigh more than 400 pounds, there are fewer possibilities for workout equipment. A high-weight capacity treadmill is one such example.
Sole's TT9 smaller brother, the F85, has previously been praised as the finest treadmill with 400 pound capability by our review team.
More functions and an enhanced look are all included in the Sole TT9 model over the F85 in addition to the increased 450 lb weight capacity and superior design of the F85.
Personal and light-commercial use only.
This treadmill is perfect for household usage, but it's also built to last thanks to its commercial-grade components and construction. Because of this, the TT9 is suited for both home and light business use. For example, in residential gyms or places where it is expected to be utilised every day for several hours.
Strong as a Stone
There are some treadmills that wobble a little when people are jogging on them, especially if they are heavy. With the TT9, The TT9 has a tank-like feel about it because to its substantial weight and rock-solid stability.
Designed for the Heavy-Duty Consumer
Every aspect of this treadmill was designed to make walking or running a pleasant experience for larger individuals. A 60-inch x 22-inch jogging surface is at your disposal. You won't feel hemmed in because the surface is sufficiently wide.
The TT9's belt, like the Sole F85's, provides exceptional shock absorption, making it easier to walk and even run. For those with knee problems, the running belt provides a more cushioned and safe alternative to running outside on sidewalks and tarmac.
Large, backlit dashboard display
The Sole TT9's controls are simple, with large buttons for speed, inclination level, and stopping and starting the workout. Advanced training features can be controlled via the huge 10-inch touch screen display that comes included with the machine.
Using Bluetooth, you may share your workouts with your friends.
If you have a smartphone or tablet with Bluetooth, you can sync your workout data to the TT9. It may be used with both Apple iOS and Android smartphones and tablets. You may use the free Sole app to import your workout data, or you can sync with other popular fitness applications like Fitbit, Apple Health, and others.
Integrated Help
Any user, regardless of age or technical skill level, can benefit from the integrated assistance tools that walk them through any feature they are unsure of using. In Sole's words, it's the "message hub."
An Unobtrusive Method of Operation
Sole TT9's large motor was expected to make it a little noisy, but it was a pleasant surprise. A treadmill with this much power and running surface would be expected to be noisy. However, the Sole TT9 is a quiet treadmill.
Term Insurance
Although you're paying a premium for this guarantee, it's not your typical manufacturer's warranty. Lifetime warranties are offered on the TT9's deck and frame. It comes with a 6-year warranty on the electronics and a 3-year labour warranty if something goes wrong.
The following are some of the additional features:
Built-in pulse sensor, but can also be used with Polar compatible chest strap heart rate monitors for a more precise reading.
Stereo speakers – Use these to connect your phone or MP3 player to the system's built-in speakers and listen to your music.
You may not notice much difference with a cooling fan, but it's nice to have one when you're hot and bothered.
There are, of course, flaws.
The Sole T99 has three major drawbacks.
Most people can't afford it. While it's cheaper than commercial gym treadmills, most individuals can't afford to spend so much on home training equipment.
Weighing in at 397 pounds (180 kilogrammes), the Sole TT9 is one hefty treadmill. It's not a big deal if you're not going to move it. Assembling the treadmill on your own isn't recommended. It's not pricey and well worth it to include professional assembly in your T99 purchase.
For some reason, it's the only one of these that is not folding, and that's because it's so heavy!