If you don't have enough room for a full-sized treadmill in your living area, consider purchasing a folding treadmill that you can put under your bed.
The capacity to reduce space is one of the most significant features of these folding running machines. Until recently, finding a robust flat folding treadmill was nearly impossible.
It was difficult to find a foldable treadmill that was powerful enough, had a good amount of cushioning, and was easy to store.
The good news is that fold-down treadmills are now on the upswing. Nowadays, under-the-bed treadmills are built to last, are incredibly silent, have lengthy tracks, plenty of power, are lightweight, and are reasonably priced. They can also fit in even the smallest of living spaces.
You could have a hard time deciding on a treadmill that folds flat with so many well-known brands like Nordictrack T series treadmills with TVs on the market. The eight best compact treadmills for under-the-bed storage are listed below.
Best under Bed Treadmill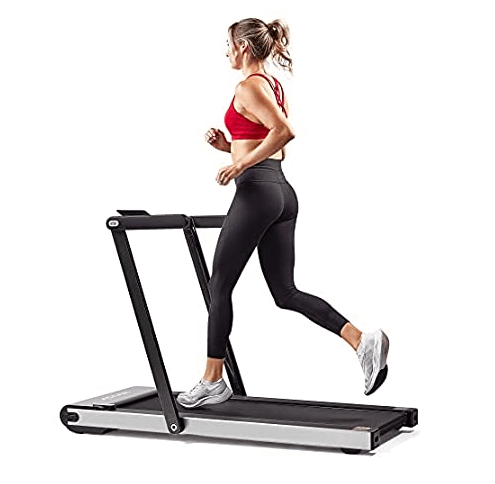 The ASUNA 8730 is a walking treadmill with a thin design and portability. This treadmill has 2.5 peak horsepower and can reach a maximum speed of 8.0 MPH.
Its LCD-based interface keeps track of calories, pace, speed, and distance, as well as other metrics. You can use it for light to moderate cardio, muscle toning, speed-walking, endurance building, and weight loss on this fold-up treadmill.
Specification:
Motor: 2.5 HP

Running Deck: 49″L x 17.75″W

Folding: Yes

Max Speed: 8 mph

Weight Capacity: 220 lbs.

Dimension: 59″L x 30.5″W x 40″H
Things we liked
It's ready to use out of the box.
Folding side arms and a console; elegant, folded thickness is 4.5′′, may be placed under a bed. 4.5′′
With a weight capacity of 220 pounds, this deck will last for years.
Two sets of wheels for moving about on the ground.
It's a cushion.
Speed range of 0.06–8.0 MPH with 2.5 HP motor (increments of 0.1 MPH).
There are quick-selection buttons for 2 and 4 mph speed settings.
The sound system comes with an AUX cable.
The warranty is excellent.
Things we didn't like
Heart rate monitoring isn't possible due to the lack of hardware.
Not a single built-in app.
There are no objectives to work for.
The Asuna 8730 is the greatest treadmill that folds flat and can be stored under a bed, desk, couch, or sofa because of its space-saving foldable low-profile design.
Using the folding tool or lock key, this small running machine folds flat, taking up only 4.5′′ of storage space.
Exercise equipment with a weight capacity of 220 pounds and a sturdy and long-lasting framework may be found here. If you combine the powerful motor with the low-impact running deck, you may go as fast as 8mph while without damaging your joints or joints with the help of shock absorption.
Running on a soft surface like a treadmill will be safer and more comfortable than running on concrete. The console's LCD display shows current speed, calories burnt, distance travelled, and time spent exercising.
This treadmill has a built-in pedometer that counts every step you take while exercising. There's also a tablet holder with a 3.5-millimeter auxiliary headphone port and built-in speakers where you may put your tablet PC or smartphone.
With the help of a folding tool or lock key, this treadmill can be folded into a compact 4.5-inch square.
The user weight capability is 220 pounds, and the frame is sturdy and long-lasting. ' Walking, running or jogging at a pace of roughly 8 mph on the low impact running deck is achievable with the powerful 2.5 HP motor and shock absorption, so your joints are not damaged.
It'll be more comfortable and safer than running on concrete or other harsh surfaces. To halt the treadmill in the event of a reversal, you can attach an emergency safety clip to your clothing.
Every step you take on this treadmill will be recorded by the pedometer. There's also a tablet holder that features a 3.5-millimeter auxiliary headphone port and built-in speakers for your tablet or smartphone.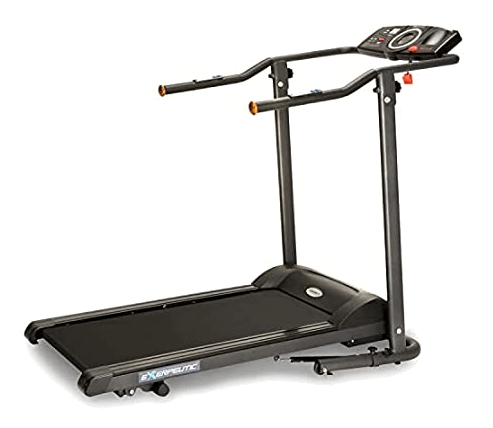 An electrical folding tiny treadmill that may fit under a bed for walking is the TF1000. " Paradigm Health & Wellness manufactures Exerpeutic treadmills. High-quality workout goods are available at reasonable pricing from Paradigm.
Specification:
Motor: 1.5 HP
Running Deck: 40″L x 20″W
Folding: Yes
Top Speed: 4 mph
Weight Capacity: 400 lbs.
Dimension: 51.2″ L x 32″ W x 63″ H
Things we liked
Supports individuals weighing up to 181 kilogrammes (400 pounds).
Pulse sensors are built into the handlebars, which are 18 inches long.
You may fine-tune your workout pace by adjusting the speed by just 0.1 MPH at a time.
Light jogging is possible at speeds ranging from 0.1 to 4.0 MPH.
Uses minimal power; produces minimal noise.
Displays workout data and goals for time, distance, calories, speed, and pulse.
There is minimal setup and upkeep necessary.
Things we didn't like
Manually adjustable inclination.
Not a single workout programme is offered by this website.
Small and without a backlight, the console's display is difficult to read at night.
In terms of top speed, it's limited to 4mph. Choose one of two inclination options. It is possible to manually alter the incline to 3% or 6%. Use the LCD display to keep tabs on things like distance, calories burned, heart rate, and so on. The 1.5 HP motor powers the machine.
It can support up to 400 pounds and features a 40′′L x 20′′W walking surface (101 x 51 cm). Because this treadmill is so quiet while you're walking, no one else in the house will realise that you're using folding treadmills at home.
Assembling this treadmill is a simple matter of attaching the computer console and plugging it in, and you're ready to go! Reviewers have cited a 15-minute assembly as an example of an appropriate length.
Excellent parts and labour warranty of over five years and a motor and frame warranty of over ten years, which is exceptional in this price range.
Specifications
Size: 55.2 x 27.8 x 5.1 inches
Max speed: 7.5 MPH
Maximum weight capacity: 260 lbs
To protect your safety and maximise your training, we always value a fitness device's long-term viability, reliability, and adaptability.
In this category, we think UREVO folding treadmill is a great option to consider. The product's strong construction means it won't produce any vibrations when used with the equipment.
Multi-way screws link the machine's components, making it easy to customise to your preferences. A folding treadmill that can be tucked beneath a bed or chair can save a lot of space.
With a 2.5 HP motor system, this treadmill is capable of providing you with a safe and effective workout. If you're looking for an exhilarating and effective run, 7.5 MPH is the ideal speed.
In addition, the treadmill's LCD panel provides a complete set of parameters for each road so that you can monitor and change your workouts, making it even more convenient.
It also provides hours of practical amusement with the added integration of the phone tray in front of the screen system.
Setting and pre-installing 12 training plans are the most noticeable features in this product series. You are free to select from any of the offered training programmes.
We like
 Stable, sturdy design
 Easy to assemble
 Large maximum payload
 Ideal capacity
 Great top speed
We don't like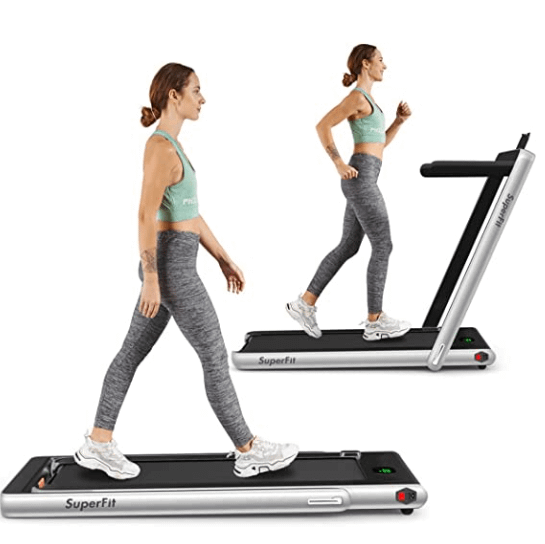 It is easy to transfer and store this foldable treadmill under a bed or couch because of its foldable form and built-in transportation wheels.
This Goplus folding treadmill features a powerful and ultra-quiet 2.25HP motor, making it suitable for usage at home or in the office without bothering others.
Specification:
Motor: 2.5 HP

Running Area: 40″L x 16″W

Folding: Yes

Top Speed: 7.5 mph

Weight Capacity: 265 lbs.

Dimensions: 49″ L x 27″ W x 42″ H
Things we liked
The perfect combination of sturdiness and elegance
A maximum user weight of 265 lbs. is supported (120 kg).
The shock-absorbing system in the tread belt's anti-slip design relieves pressure on the back, knees, and ankles.
Storage is a breeze because to its compact form. Wheels are supplied for easy transportation.
With a maximum speed of 12 km/h (7.5 mph), the 2.25 HP motor ensures smooth and silent running (7.5 mph).
Time, Speed, Distance and Calories burned are shown on an LED panel.
A smartphone holder and a built-in Bluetooth speaker require minimal upkeep.
Things we didn't like
There is no inclination.
Water bottle holder is missing.
However, an external heart rate monitor can be used to keep track of your goal heart rate.
The folding treadmill's belt boasts a 7-layer non-slip Shock-absorbing and a large running space (40″ x 16″), ensuring that your back, joints, muscles, knees, and ankles are protected.
You can see your progress in real time on the LED display, and you'll always be aware of how much exercise you've done. The remote control makes it easy to change the speed of the vehicle and stop it at any time.
You may use Bluetooth to connect the foldable treadmill to your phone so that you can listen to music while working out. Watching videos or chatting with pals can also be done while using the phone stand. A one-year warranty ensures that you may buy with confidence.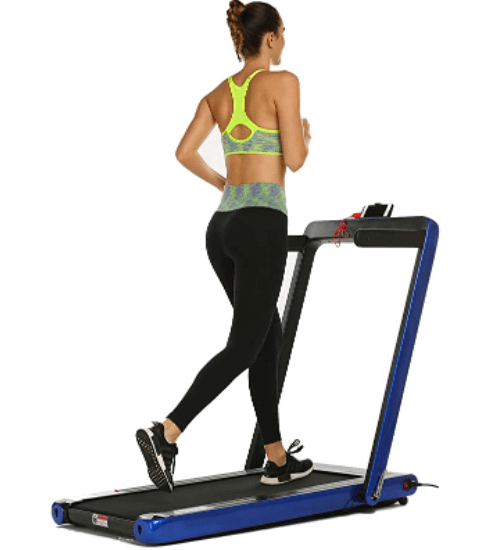 The OppsDecor Under Desk Folding Treadmill is a great option for folks who need to work out at a moderate to high intensity but do not want to take up too much space in their compact city apartment. In addition to being foldable, the tiny treadmill is also small enough to store easily.
Specification:
Motor: 2.25 HP

Running Surface: 40″L x 16″W

Folding: Yes

Max Speed: 7.4 mph

Weight Capacity: 220 lbs.

Dimensions: 49″ L x 27″ W x 42″ H
Things we liked
An elegant style at an economical price.
Supports a maximum user weight of 220 pounds (99.7 kg).
You may keep it in unusual places because of the compact design, which takes up very little room.
Despite the motor's power, it doesn't use a lot of power in the process.
A cushioning system decreases the impact on the ankle, back, and knee joints of the runner by reducing friction.
Built-in Bluetooth speaker and a place to put your smartphone.
Time, distance, speed and calories burned are all tracked by the LED monitor at once.
Assembling and maintaining the device is a breeze.
Things we didn't like
There is no way to check your heart rate.
The remote controller is the only way to control the vehicle's speed.
There is no inclination system.
The five-inch fold-down height allows it to be stored beneath a bed (12.7 cm). It has a 2.25 HP motor with a range of 0.5 to 7.4 MPH.
With a 40″ by 16″ running surface, the motor runs smoothly and virtually silently. As a result, using the foldable treadmill in close proximity to your family or your neighbours won't be a bother.
The front base of the treadmill features an LED display. Time, distance, speed, and calories burned are all displayed in real time on the display.
It has pre-programmed workouts that allow you to customise your training to meet your specific demands. You can choose to jog, walk, or run at a pace that is right for you.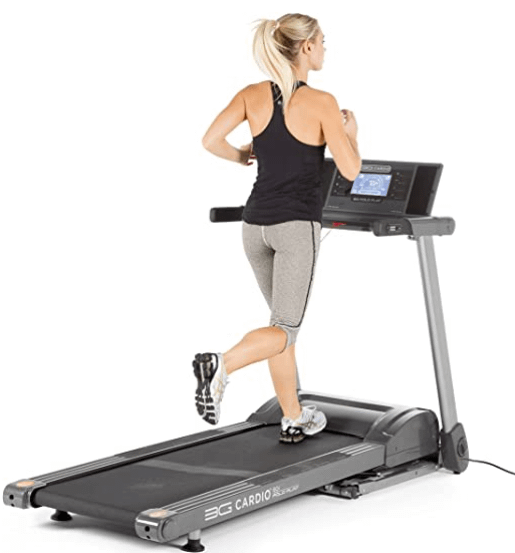 It is possible to fold the 3G Cardio 80i tiny treadmill flat and wheel it under a bed or through a doorway thanks to its innovative dual folding design. Other foldable treadmills are available, but none compare in terms of quality and ease of use.
Specification:
Motor: 3.0 HP

Incline: 0 – 15%

Belt Size: 18.5″x 58″

Folding: Yes

Max Speed: 11 mph

Weight Capacity: 325 lbs.

Dimensions: 74″ L x 33″ W x 49″ H

Built-In Programs: 8
Things we liked
Less jarring smoothness and sturdiness.
Easy to understand and utilise. The console has no difficult buttons.
There is little to no upkeep and no assembly required.
Sound system of the highest calibre.
Shock-absorbing features are found in deck padding.
Highest user weight limit for a portable treadmill.
Both horizontally and vertically can be folded.
Things we didn't like
It's a lot of weight.
Lack of a transmitter for the chest strap.
Extremely pricey (but you get what you pay for).
The 3G Cardio 80i Treadmill will impress even the most stingy of runners, with speeds up to 11 mph on a track that can be inclined by 15% and a heavy-duty 3.0 HP motor with a nearly 60-inch (58-inch) running surface.
It has eight pre-programmed workouts, such as fat burning, heart rate, climbing, and interval training, all of which are included. There are two built-in speakers and two water bottle slots in the console area.
80i Fold Flat treadmill has a 1-year labour, 5-year parts and lifetime frame/motor warranty for residential use.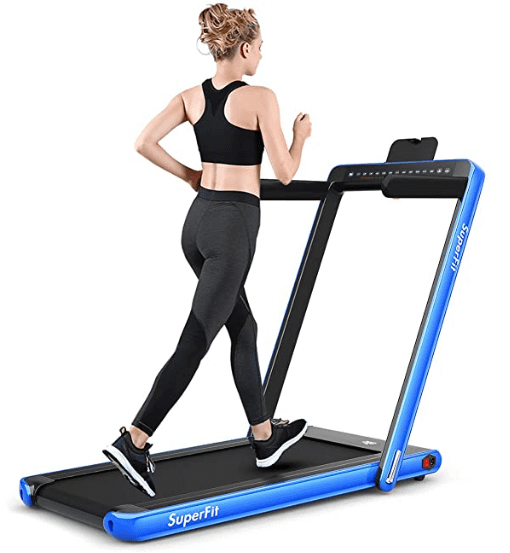 With the GYMAX 2 in 1 fold up treadmill, you don't have to worry about squeezing in a treadmill into a tight space in your home or apartment. Fold and slide this under a bed or into a small spot in a cupboard for easy storage. It also has a weight capacity of 220 lbs.
Specification:
Motor: 2.25 HP

Running Area: 40″x 16″

Folding: Yes

Max Speed: 7.5 mph

Weight Capacity: 220 lbs.

Dimensions: 49″ L x 27″ W x 42″ H
Things we liked
It's inexpensive and long-lasting, making it a good value.
Supports a maximum user weight of 220 pounds (100 kg).
The space-saving design of this treadmill makes it simple to store.
In operation, the motor is powerful and silent.
The joints are protected by a level 7 dampening system on the running surface.
Workout progress, including time, speed, distance, calories burnt and heart rate are all recorded on an LCD monitor that is built into the treadmill.
The user can monitor their heart rate thanks to the touch sensors.
Wheels make it easy to move around. It's simple to put together and maintain.
Things we didn't like
No Elevation.
There are no water bottle or tablet holders. There is no sound system installed.
Heavy runners should stay away from this route.
The treadmill's silent motor power may be relied on regardless of your training intensity.
With a 7-layer shock absorbing structure and an anti-skid noise reduction running belt, the anti-skid belt allows you to run or stroll at varied levels of energy safely. It has a walking area of 16′′ x 40′′, so you can get some exercise in there.
This treadmill has a 2.25HP motor that performs its functions silently, and the treadmill's speed range is 0.4 MPH to 7.5 MPH.
The vivid LED display shows distance covered, speed, calories burned, and the length of the activity, making it easy to monitor your progress.
A built-in Bluetooth speaker and phone holder allow you to watch your favourite videos or chat with a friend while you walk or run on the treadmill.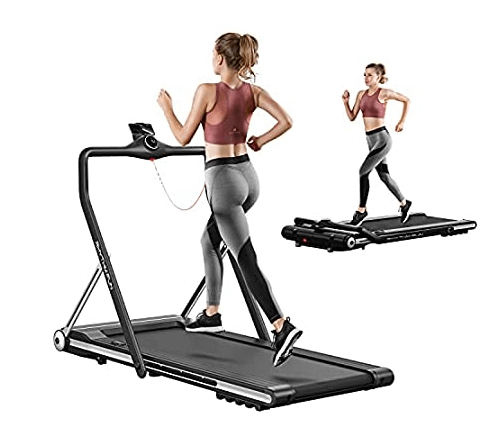 A 2 HP strong DC motor, a wide tread belt, and a collapsible handrail are just some of the features of the ultra-compact RHYTHM FUN underbed treadmill.
You can walk or jog up to 6 kph and run up to 12 kph if you have the proper equipment. The lightweight treadmill can hold up to 220 pounds of a user's weight (99.7 kg).
This treadmill folds up to about 8 inches thick, making it ideal for storing beneath the bed or anywhere else.
Specification:
Motor: 2.0 HP

Running Area: 50″x 18″

Folding: Yes

Max Speed: 7.5 mph

Weight Capacity: 220 lbs.

Dimensions: 61″ L x 30″ W x 43″ H
Things we liked
As a result, it can be used for regular workouts, as well as for walking while working or watching television.
The running belt is 50 x 18 inches long.
When the folding treadmill under the bed is folded up, it has a top speed of 7.5 mph and a top speed of 3.7 mph with the handrail down.
It has a clock, a calorie counter, a speedometer, and an indicator for distance travelled.
A 7-layer padded belt for running and walking.
Provides shock absorption and a peaceful operating environment.
Bluetooth speakers included in.
Things we didn't like
There is no inclination.
There is no way to check your heart rate.
With no pre-programmed workouts
Using the remote controller or your smartphone, you can monitor your workout information like as calories burned, current speed, distance travelled, etc. Once you press the one-home button, you'll be able to start utilising it immediately.
The belt is 50 by 18 inches broad. As erected, it measures 61 x 30 x 43 inches; when folded, it measures 61 x 30 x 8.
Two years for the motor, one year for the parts, and ten years for the frame are included in the warranty. While the price is a little on the high side, you're getting a lot for your money.